Overnight at the Olde Park Hotel
Saturday, October 15, 2022
Join the Texas Chapter of Riverside Iowa Paranormal for an Overnight at the Olde Park Hotel in Ballinger, Texas.
This amazing location originally built as a bunkhouse for railroad workers has also served as a hotel, schoolhouse, saloon, brothel, restaurant, music store, boarding house and antique store. Here is your chance to spend the night at a location featured on shows such as Fright Club with Jack Osborne and Death Walker with Nick Groff.
Guests at the Olde Park Hotel have reported the following experiences:
Disembodied Voices
Strange knocks
Slamming Doors
Shadow Figures
Apparitions
Cold Spots
Perfume and Cigar smells
And being touched, scratched and pushed!
A limited number of tickets are available.
General Admission
Investigate Olde Park Hotel from 8:00 p.m. – 2:00 a.m.
Doors open at 7:30 p.m.
VIP Admission
Early access to the Old Park Hotel. Doors will open at 6 p.m.
Tour the Hotel with the Riverside Iowa Paranormal Team
Investigation begins at 8:00 p.m. with access to the Hotel until 9:00 a.m.
Be sure to bring your sleeping bag, as this is an overnight event.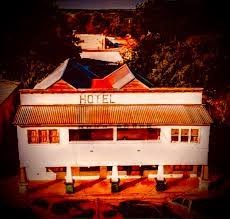 All Tickets Sales are final. Due to this, consider purchasing the "Event Cancellation Policy" offered at check-out. Please review its policies and restriction before purchasing.
Ghost hunting should be handled with maturity, respect, and seriousness. Zero Tolerance for alcohol/drug consumption right prior, during or after the event; Not Liable for injury before, during or after the event. Under 18? Please ask the Event manager before purchasing.
Events are subject to change, as a result of uncontrollable circumstances. This includes location, talent and time/date. When this occurs you will be given an opportunity to keep the updated ticket (including new date/time). If this is an inconvenient change, you will be given full credit for another one of our events (specific to the event managers, not of all Thriller Events).
Absolutely no refunds will be applied.
By purchasing ticket(s) to this event, it confirms you have read, understand and accept these conditions and rules.
Thank you for your engagement!